LifeCell ResV+ All-in-One Supplement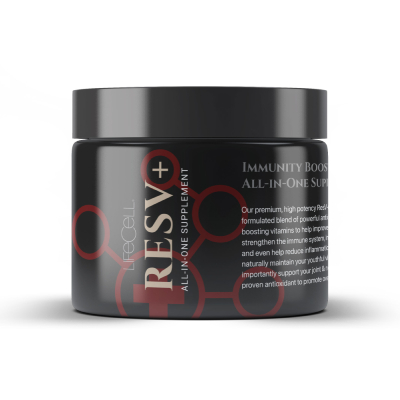 A daily dose of immunity boosting antioxidants and essential vitamins in one easy step.
Size:
60 Capsules. 30-day Supply
Why you need a supplement:
ResV+ is a multi-tasking blend of essential vitamins to improve immunity, address heart and joint health, and hydrate the skin.
Supports Healthy Aging
Boosts Immune System
Recommended Daily Dose
100% Vegan Formula
Made in USA
PRODUCT INFO
Ten years ago we created an immunity boosting supplement to target aging from the inside out. We formulated ResV+ with top-quality ingredients to give the body everything it needs to maintain a healthy immune system. Now more than ever, we need to focus on our immunity health. Recent events have further emphasized the importance of taking better care of our bodies. This All-in-One Vitamin is formulated to supplement a daily dose of 3 essential nutrients to help adults maintain fully nourished, healthy skin, bones, hair and nails, when eating habits are less than perfect. Let's be real, our diets rarely include the doctor recommended amount of vitamins and minerals. We created our All-in-One Vitamin to support cell health, collagen production, boost skin hydration and elasticity, target bone loss, and improve the immune system.
Ingredients:
Resveratrol (Std. to 98% Pure trans-resveratrol; from polygonum cuspkdatum Root Extract), ascorbic acid, ergocalciferol with lumisterol
How to use:
Take 2 capsules once a day.
Reviews:
No reviews found.
Ingredients:
Resveratrol (Std. to 98% Pure trans-resveratrol; from polygonum cuspkdatum Root Extract), ascorbic acid, ergocalciferol with lumisterol